Long-Term Temporary Housing
When Mother Nature strikes, we're thankful when people survive. And our thoughts go out to them because of what they've lost. For survivors who temporarily have no place to live after a natural disaster, North Atlanta RV Rentals provides luxurious motorhomes for long-term temporary housing. Get an instant quote today by calling us at (770) 966-1551.
Clean & New RV Rentals
Smoke & Pet-Free
With select rentals that allow pets
24/7 Help Hotline
Managed by our professional, friendly staff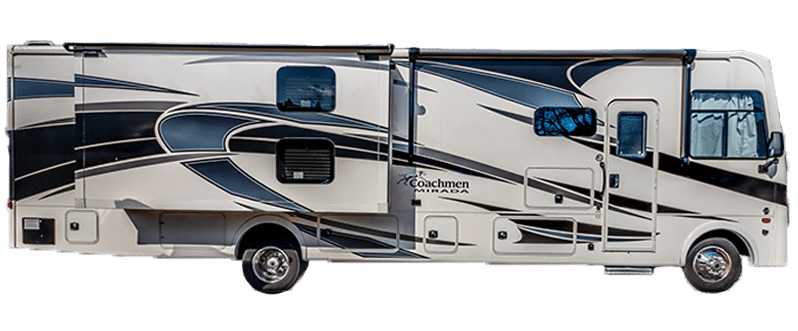 Additional Amenities
Grills, beach cruisers, and more
RVs for Sale
Gently used and and well-maintained
Your Home Away From Home
After an emergency, if you can't live in your home right away, resuming daily activities boosts your sanity. Maybe you want to put on a show for the kids, so they settle down for a while. And take a hot shower after working on your damaged house. Our long-term RV rentals have everything you need to relax while you get your life back to normal. Kitchens with appliances, bigger bathrooms, hot water, showers, and entertainment centers make your recovery time more comfortable.
We have a variety of luxury motorhomes and travel trailers available for rent. If your house repairs take longer than anticipated, we can extend your contract when you give us a call.
How We Can Help After a Disaster
When a natural disaster hits, we offer temporary living solutions for survivors.
In the fall of 2022, Hurricane Ian pummeled the state of Florida. Much of the state's population was left without a place to live, and many people needed temporary housing for several months. Although our brick-and-mortar RV rental locations are in Atlanta, GA, we delivered RVs to our neighbors in Florida, while they worked get their houses restored.
We are ready to help you with affordable temporary housing and then deliver our RVs to you. You can connect with us by:
Calling us at (770) 966-1551 for immediate help.
Filling out our online form to let us know about your situation, what type of RV you need to rent, and where you need it delivered.
Browsing our types of gently used RVs for sale. Then call us at (770) 966-1551 to get a quote for an RV of your very own.
Luxury RV and Motorhome Rental Services in Atlanta
RESERVE NOW
Depend on Us for a Temporary Home
Call us at (770) 966-1551 and get an instant quote for your long-term temporary housing needs. We are based in the north Atlanta area, but when people in other areas are in an emergency, we deliver our RVs there too. Remember, we're here for you and your family. Stay safe and stay strong.